Planning a wedding? During COVID 19? Here are some inspiring details to look at how you too can have a socially distanced wedding.
WEDDING COVID SIGNAGE
Always adhere to state and local guidelines when planning a wedding even though you have it in your private estate or backyard. These signs just show how thoughtful and diligent you are about guest safety and their well being. These signs from Minty Paperie and Noted Calligraphy just goes to show that a mere sign does not have to be a plain old piece of paper stuck to something with 4 pieces of tape!
ACCESSORIZE
Let the guest showcase their comfort level. Identify whether they would love a hug, just talking or stay 6 ft apart and say hello. This way there is no hard feelings as everyone is even a clear cut identity when attending an event whilst social distancing.
A mask need not be boring either. Give them as favors. Use your initials and the date of your nuptials. Stylish masks for stylish events!
CEREMONY SEATING
Life will always throw curve balls… why not throw a curve ball at the way we sit during a wedding ceremony. We are loving these cozy seating arrangements which can definitely be allocated for each family.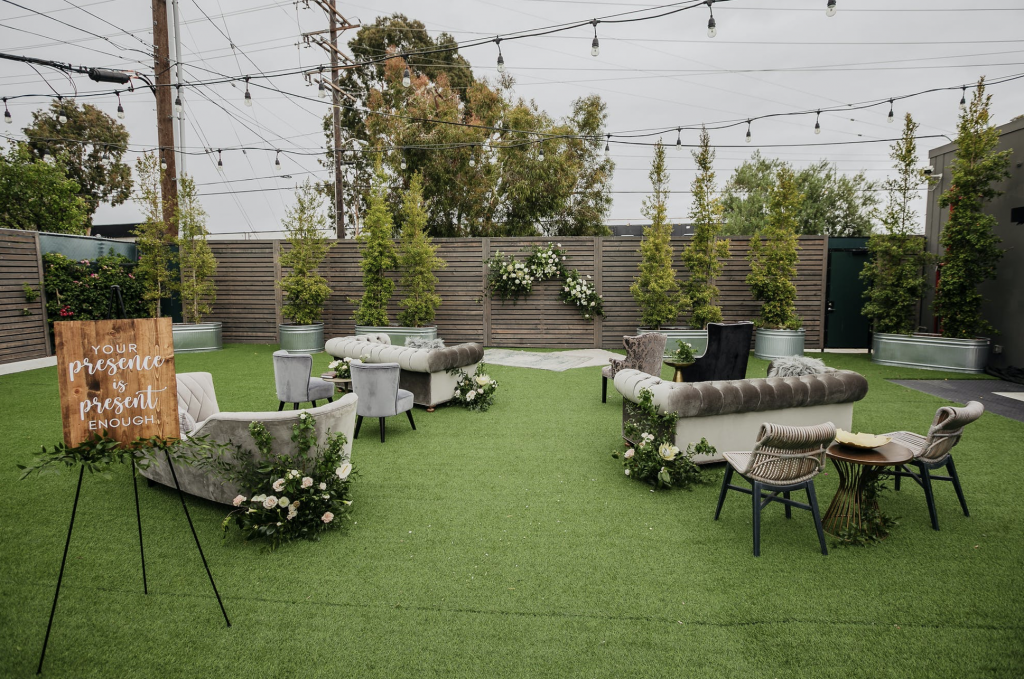 COCKTAILS AT HAND
Rather than crowding at the bar, consider having your drinks brought to your guests just like the appetizers. Have the drinks placed conveniently so that guests can easily access them…one at a time!
PLATED DINNER INSTEAD OF A BUFFET
This is very similar to that of the drinks being brought to you. This is 'Dinner at your service' option. Beautiful plated dinners are art forms in itself. A personal chef catered dinner is just what the doctor orders for a socially distanced wedding.
INDIVIDUAL CHARCUTERIE BOARDS & APPETIZERS
A grazing board you certainly cannot have during these questionable times. Opt to have individual charcuterie boards and appetizers so that everyone doesn't have their paws in the same dish!!!
RECEPTION STYLE
Group your guests! Create different lounge clusters to elevate your wedding day and give a truly unique experience.
If lounge clusters is not your thing, then give each guest group their own canopy to dine under with gorgeous draping.
HAVE A CONCERT!
I'll be honest, I have no idea how we can dance whilst social distancing. So lets opt for a concert or a special performance. Have a grand piano playing for your ceremony. A string trio or a band will surely make your guests relax and be comfortable whilst celebrating the two of you.
Funky times surely do make us find creative ways to meander through. Be different, adapt and Celebrate – always!!!
Till next time
NK